Island Festival 2006
FRIDAY JUNE 23rd
11:00 amFestival begins Vendors will be serving foods characteristic of the Caribbean and will have arts and crafts for sale. Join us for Lunch, and check out the all-new Arcadia Festival Place. Sample special Caribbean cocktails from Bacardi, or enjoy an ice cold Red Stripe.
11:30am Lunch entertainment The Zion Lion Trio
5:00pm Hullabaloo
Hullabaloo is an Ann Arbor based music collective that produces original roots music blended with Latin rhythms. Performing with anywhere from six to ten members, the Hullabaloo experience is an upbeat, semi-chaotic showcase of lyrical and musical expression.

Sounds Like

Skatalites meet the Talking Heads. Santana joins a ska band. World Beat Ska Funk. Afro-Cuban Jazz, Latin Rock. . . "high energy...WOW!"
6:45pm Messenger and the Souldiers Crew
| | |
| --- | --- |
| Messenger will move more than your waistline - he moves your heart. With his conscious lyrics and his dynamic riddims Messenger brings The Message. Get HYPE with Messenger and his backing band The Souldiers Crew - LIVE. Messenger was born on July 19, 1976 in Saginaw Michigan. Inspired to play since birth, Messenger formed his first band at the age of thirteen. Messenger's grit and raspy voice did not come for free. His work ethic and belief that practice makes perfect made him successful not only as a street musician at age 18, but also in many other bands from the mid-west to the west coast and even Hawaii. His unique style and ability was partially formed from playing with musicians from places like Jamaica, Switzerland, Belize, Brazil, and Japan. Messenger's instrumental repertory includes guitar, bass, drums, melodica, nya bengei drum, and turn tables. | |
8:15pm Zion Lion
| | |
| --- | --- |
| | Zion Lion is comprised of some of the best talent Kalamazoo has to offer. The backbone of Zion Lion are the Kalamazoo Riddim Twins-Simba mashing up the bass, and Preston drumming a pocket a mile wide. Add the authentic African guitar of Nathan Njharini, and the sweet sounds of Sister Myra on vocals and steel drums, and you can see why Zion Lion is such a crowd pleaser. |
10:00pm Universal Xpression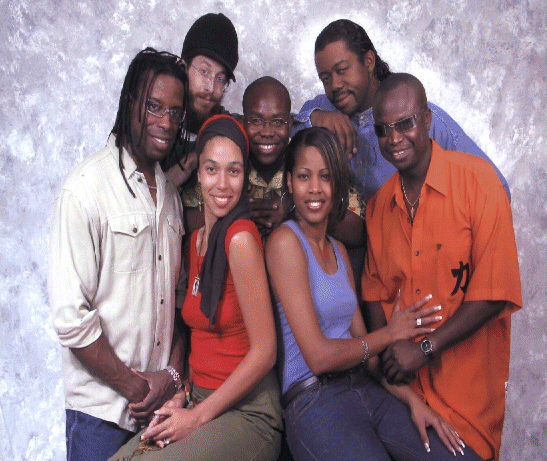 This marvelous group provides an amazingly energy pumping musical and theatrical treat. Universal Xpression uplifts and captivates its audiences with Caribbean rhythms such as reggae, soca, zouk, and dance hall music, with an undertone of African, Latin and American rhythms. Consequently, this rhythmic implementation has created a hypnotic groove and a beautiful sound, with a universal appeal, thus making this group the choice show band.
Universal Xpression has thrilled thousands all over America, Canada and the Caribbean at numerous venues: High schools, colleges, universities, clubs, festivals, weddings, parades, corporate parties, and parks. In twelve great years the group has built a tremendous fan base which continues to grow with every performance. Seeing Universal Xpression live is an awesome experience, strong and beautiful vocals, sweet harmony, solid and tight groovy music topped off with wonderful showmanship. You are embraced and involved in the mental, physical, educational and emotional awe. Universal Xpression is ultimately satisfying.
12:00am Barro
Baaro is One of the best reggae bands in Chicago. Made up of an original member of Dallol (Mulu), and two members of the all female Caress (Lois and Juanita) with drummer (Fikru) they are increasingly becoming more popular in the region.

Baaro had released a CD titled Rhythm City . Is available at the WIldHare.

The only Chicago venue Baaro performs at is at the Wild hare check them out once every month. Members of the group include Jasper on keyboards. Abera on lead guitar and Ermias on bass guitar
Spinning Between Sets Friday and Saturday Night DJ Slacky J
| | |
| --- | --- |
| Slacky J-Hanging with Damien Marley | Reggae Vibes Show is show that comes on 88.7fm WLUW on Friday nights from 630pm till 11pm. The show has been featuring for over 8years plus. The show was first start by Slacky J AND Hiatianking! You can also listen to the show live from our website at www.reggaenice.com We have interviewed and promoted some of the biggest name in reggae music on the show ranging from Big Youth, Culture, Third World, Beenieman, Sean Paul, Monster Shack Crew, Tony Curtis, Elephantman, Capelton, Singing Melody, Damien Marley, Morgan Heritage, and many great names in the music! |

SATURDAY JUNE 24th
11:00am Festival begins Vendors will be serving foods characteristic of the Caribbean and will have arts and crafts for sale. Join us for Lunch, and check out the all-new Arcadia Festival Place. Sample special Caribbean cocktails from Bacardi, or enjoy an ice cold Red Stripe.
11:30am Lunch entertainment Third Coast Steel Drum Band
2:00pm Family Workshop with KUUNGANA Dance and Drum Troupe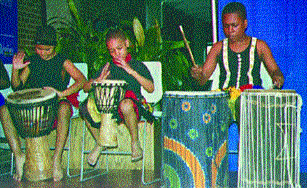 4:00pm Iff1icial
| | |
| --- | --- |
| The Ifficial Reggae Band is a stand out musical group. With their explosive style and mesmerizing "riddims" it's no wonder the band members always sport a smile on stage. Ifficial has been a much welcomed addition to the Chicago Reggae scene with many taking notice. Ifficial has already been rocking shows all over the Midwest for years now while creating new and original music. Each of the band's members brings years of experience to create this extremely energetic and uplifting sound. Look for their highly anticipated CD - Summer of 2006. | |
6:00pm The Rum Runners
| | |
| --- | --- |
| | The Rum Runners, previously known as Terra Firma are a six piece ska/reggae band the hail from Carbondale, Illinois (home of Southern Illinois University) Their sound runs the gamut from 60's sounding ska and rocksteady to dub-enhanced roots reggae. They even occasionaly throw in a little dancehall and Chicago Blues for good measure. Although only being together for roughly two years. The band has amassed a dedicated following throughout the mid-west and has a reputation for uniting various sub-cultures especially amongst the local student population (including many international students.) So if you get a chance check 'em out, you won't be disappointed. Grab a Red Stripe, spread the love, and DIG IT!! |
8:00pm Kokolo Afrobeat Orchestra
In just a few years, KOKOLO's infectious blend of social commentary, charisma and musical appeal has taken them from the tangled streets of their native New York to the world's stage, firmly establishing them as premier innovators in rhythm-based music, and drawing scores of afro-beat lovers, funk heads, salsa aficionados, dance club punters and jazz connoisseurs along the way.

KOKOLO (a name derived from Spanish-Harlem slang used to describe hardcore followers of afro music) formed in May 2001, at a time when the Big Apple's nu afro-beat scene began to take shape. Formed by lead singer and songwriter Ray Lugo and English trombonist Chris Morrow, the duo soon blossomed to eight core members, and within weeks became mainstays at New York's venue for the avant-garde, the Knitting Factory.

Turning to the DIY ethic of his formative punk days, Lugo self-produced and released the octet's urgent Fuss and Fight debut through a deal with England's Afrokings label in 2002, under the shadow of the World Trade Center attacks. That same year, KOKOLO undertook the first of many visits to the U.K., giving European audiences an initial taste of the live energy the band is known for.
10:00pm Dub Station
Dub Station is arguably one of the top U.S. based reggae acts, based on its established reputation and the shear breadth of artists and styles worked with.

Formed at the start of the 90's, Dub Station has opened for many key reggae legends including Culture, Yellowman, Toots and the Maytals, Third World, Beres Hammond, The Wailers and many others.

"Dub Station has built up a music-loving inter-racial crowd that represents the best reggae has to offer"

-The Boston Globe
12:00am Abijah
Reaching #1 on the Jamaican charts is something every Reggae artist aspires to. Abijah's done it. Debuting at No. 6, and remaining on the carts for 30 weeks with his "Revelation" arguably one of the most groundbreaking songs of the new era. Leaping easily from roots anthem to ballad, jump-up tune to meditation ABIJAH's stage show is always a stand out, making him equally on point with a dancehall crowd (he's toured with Elephant Man) as he is with the most roots oriented of crowds.

Dubbed "The Ambassador of Peace" in Jamaica, ABIJAH has been asked to speak and perform at Harvard University and Oxford, but he has not forgotten his roots; having performed free at dozens of schools in Jamaica, teaching the next generation about ONE LOVE: the too often forgotten-but essential core of Reggae Music.
Join us of the 11th annual Island Festival, hosted by the Kalamazoo Jaycees and one of the reasons that Kalamazoo is a Cool City!